The 3C-Carbon Group AG is significantly expanding its support for the leading sports club in the company's local area of Landsberg am Lech. During the Ice Hockey Bayernliga team HC Landsberg's recent derby against ECDC Memmingen, it was possible to announce the signing of a multi-year sponsorship agreement.

The almost 2000 spectators who came to Landsberg Eishalle greeted the promising commitment with applause. 3C has thus become exclusive sponsor of both TSV Landsberg and HC Landsberg for the coming years.
More information can be found in the joint press release from 3C-Carbon and HC Landsberg:


The 3C-Carbon Group Ltd is making another significant commitment to the town of Landsberg. The dynamically growing high-tech company from the south of the city will for several years starting with the 2017/18 season be the exclusive main sponsor of the ice hockey club HC Landsberg. The respective contract was signed by 3C chair Karsten Jerschke and HCL board members Markus Haschka and Frank Kurz before the play-off home game against ECDC Memmingen. With this outstanding commitment, 3C is doing more than just supporting the successful Bayernliga team of the Riverkings. It's also expressly acknowledging the club's outstanding youth development work.

Karsten Jerschke (Chair of the 3C-Carbon Group AG)


"We have been watching HC Landsberg for a long time and we are impressed with the work that is being done here. Within a few years, and via solidarity, excellence and enormous commitment, it has been possible to create new faith in ice hockey in Landsberg and to establish the Riverkings as a team with a likeable image in the top flight of an attractive sporting league. These are the skills and values which we, as a successful company, are happy to support.

As a market leader in a high-tech industry, we too know the importance of having a highly qualified and well-motivated junior team. Thanks to the excellent work of HCL in this area, Landsberg is establishing itself as a top hockey location – just as the 3C-Carbon Group is doing in the technology sector. And it's not least for this reason that we are happy to be showing our commitment."

Markus Haschka (1st Board Member) und Frank Kurz (Head of Marketing HC Landsberg)


"That it is the Landsberg company 3C-Carbon Group AG getting on board as main sponsor of the Riverkings is especially pleasing for us as the current board of HC Landsberg.
Operating with regional roots – the path pursued in sports – is something which we can continue to pursue together with the new main sponsor.
In particular, the fact that a long-term partnership was being sought here is something unbelievably important for us as a club, so we can continue to plan in a solid and local way and to push ahead with further positive sporting developments.
HC Landsberg is looking forwards to a long-term and sustainable partnership with the renowned 3C-Carbon AG company, so that we can continue to build on recent years of successful work together.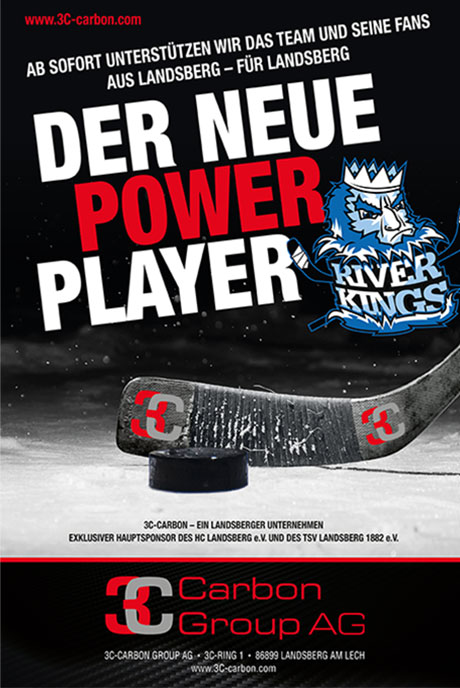 About HC Landsberg e.V.:
HC Landsberg was founded in 2008 by 25 ice hockey fans and former Landsberg players. Now, in the junior department alone, more than 400 kids in a total of six age groups are active in figure skating and skating training. The club employs a full-time youth coach and 12 volunteer or part-time trainers, most of whom also played themselves for many years in Landsberg. The senior team, the Riverkings, has reached the playoffs of the Ice Hockey Bayernliga in each of the last two years.
Foundation of the club: 17 December 2008
Number of members: over 650
Departments: Ice hockey (seniors and 6 junior classes), figure skating, skiing school (at the Landsberger Ice Hockey Association)